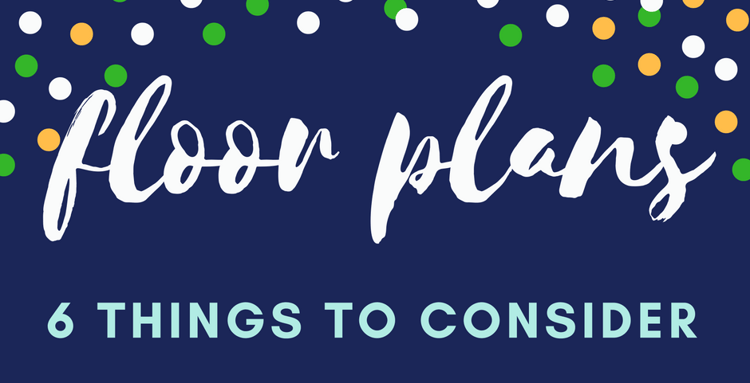 How exciting! You have decided to build a new home. Let the fun (and decision making) begin! One of the most compelling reasons to build a custom new home in Canton, Michigan is the ability to design a home that will suit your needs and lifestyle. Because there is such a wide variety of plans available to you, however, sometimes it can be challenging to determine which floor plan is the right one for you. It is important that you know how to find a plan that is suited to your needs. Keep the following things in mind when choosing your home plan and you will love living in your new home!
Floor Plan Size
One of your main considerations when selecting a house plan should be size. You don't want to build something that is too big or too small to fit your family or your lifestyle. Take some time and make a list of all the rooms and spaces that your new home should have.
Ask yourself how many bedrooms and bathrooms you want and what other types of living spaces you will need. Next, consider the size of each room. If you plan to use some or most of your existing furniture in your new home, you will want to measure to make sure it will fit in your new space. These details will go a long way in helping guide your selection of the right home plan for you.
Your Current Lifestyle
Another very important consideration when choosing a floor plan is how you and your family will use your home. The floor plan will affect how you experience your home and you want to make sure it fits with your lifestyle. From the size and shape, to where the rooms are located in proximity to each other, you will need to assess your current lifestyle, needs and wants before choosing a floor plan.
Begin by asking yourselves questions such as: do you want a first or second floor master bedroom, do you host large gatherings and want an open floor plan or formal dining room, do you work from home and require a dedicated office, how about a guest bedroom?
Floor Plans for the Future
While your current wants and needs are most important, it is also wise to consider future plans for your family. Will you be growing your family? If so, be sure your new home will be able to accommodate such growth or will include space for additions. Will your household be shrinking soon? If the kids will be off to college and you left with an empty nest, a large home may not feel like it is worth the cost and effort to maintain at that point. If there is the possibility that you may not stay in your new home forever, you might want to keep in mind that highly customizing a home to fit your needs may make it harder to sell to someone else in the future.
Open vs. Closed Floor Plan
Are you more traditional and prefer a floor plan where walls separate rooms or do you have a more modern style where an open floor plan concept would suit your needs better? An "open floor plan" is a space that has no or few dividing walls between areas. Generally, it refers to the main living areas of the home — the kitchen, living room, and dining room — which creates an open, flowing layout with fewer traditional individual rooms in favor of a communal living space. It is a popular choice with families who like to entertain a lot or have small children and prefer to be able to see into multiple rooms. An open-plan can indeed create a sense of space, light, sociability and fluidity that many people love. But open-plan layouts can also reduce privacy and quiet spots, as well as useful walls against which to place furniture or hang artwork. So keep this in mind when choosing a floor plan style that is right for you.
Cost of the Floor Plan
While you are making your design decisions, be mindful of the costs associated with different layouts. Consider the costs of heating and cooling your home as well as general maintenance and operating costs. Also consider the costs of a completely custom, one-of-a-kind design versus choosing from one of the many beautiful designs that already exists.
One way to keep the cost down is to choose one of the existing home floor plans your Michigan homebuilder already offers that most closely suits your needs. And if there is something that just doesn't feel quite right about it, modifications can be made to almost any floor plan. While modifications almost always mean additional cost, making modifications to an existing home plan is often far more economical than purchasing a totally custom design.
Investing in new furniture is a major expense that must also be taken into consideration. Another way to save yourself a lot of money is to use some or most of your existing furniture in your new home. If you decide to keep and use most of your furniture, consider where the pieces will go in your new home and be sure to measure to make sure it will fit in your new space.
Building Lot and Location
If you have already chosen a parcel of land or lot on which to build upon, you will want to take the characteristics of your particular parcel into careful consideration. Not every house plan will fit on every piece of land. An experienced builder will be able to advise you in this regard. Take advantage of the characteristics of the land. Looking at things like views, close proximity to neighbors, and sunlight are all important factors in choosing your home plan. If you like a lot of natural light, look for a floor plan with good window options like bay, kitchen and bathroom windows. You will also want to consider the look and feel of other homes in the neighborhood. Most people prefer to build a home of roughly similar size and style as others in the neighborhood. Building a brand new multi-level home amongst smaller, one-floor homes might not be the best idea, especially if you plan on selling it in the future.
Bonus Tips:
Keep in mind that house plans can be changed. For example, you may not like the elevation of a plan, the designation of a dining room (when you'd rather have a study) or the 2-car garage (you'd prefer 3), but the rest of the plan may be a good fit. In this case, speak to an architect or custom home builder. Plans can often be changed to suit your needs and specifications at minimal cost.
To fit a larger floor plan into your budget, cut back on some of the options. You always have the option of adding onto or upgrading your existing structure later on, once you can work it into your budget.