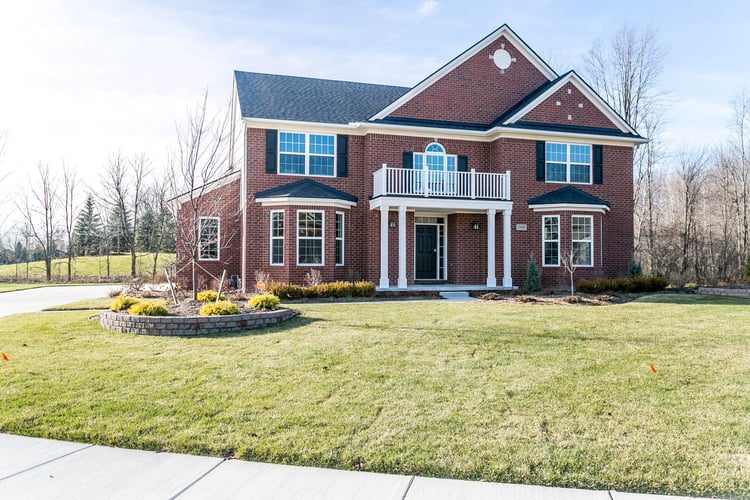 One of the most exciting times in your life can be choosing a new home! From what city and neighborhood to raise your family in, to how much space you need, and what aesthetic style you want – choosing the right home is a major decision. One of the most important considerations should be how you and your family will use your new home. It is important to choose a floor plan that will suit your family's lifestyle because the floor plan can shape how you experience your home. At Evergreen Homes, we work hard to make sure our home designs fit the needs and desires of the families that will be living in them. With its spacious and open design, and endless opportunities for customization, the Wellington is one of our most popular plans and this month's featured floor plan.
An exclusive design to Evergreen Homes in Canton, Michigan, the Wellington boasts over 3,030 square feet of well appointed living space including 4 bedrooms, 3 full baths, and 1 half bath. It also includes a 3-car garage as one of its standard features. Evergreen Homes proudly offers four different beautiful elevations to choose from.
Highlights: First Floor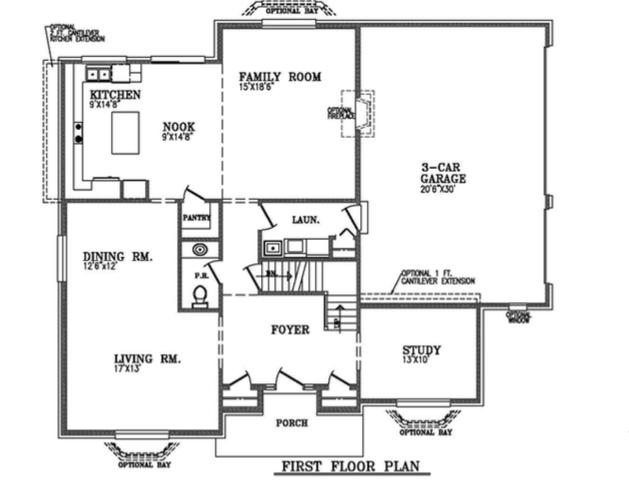 The Wellington's first floor plan provides you with all of the comforts of the traditional rooms you still appreciate, including a living room, dining room and family room, but with a more modern, up-to-date feel. The entire back side of the house contains the rooms comprising the heart of the home: kitchen, nook and family room. Each flows freely into the next creating a warm, open, relaxed feel. The ample-sized family room is a stunning two stories with a bridge overlooking it from the second floor. It also comes with an optional bay window and custom fireplace. The kitchen is thoughtfully designed with its large, floating island, wrap-around countertops, magnificent walk-in pantry and optional 2 foot expansion.
When you pass through the front door, you find yourself standing in a stunning, two-story foyer with a bridge overlooking it from the second floor. Immediately to the right as you enter is a beautiful study. The French doors are inviting, allowing light to enter, while also providing the privacy and quiet one might desire from a study. The study can be extended up to 2 feet, making it a perfect option for the addition of a first floor en suite bedroom. This is an especially appealing feature to families with multigenerational households. Immediately to the left as you enter are a spacious living room and dining room, which flow directly into the kitchen, making entertaining in the dining room a breeze.
Highlights: Second Floor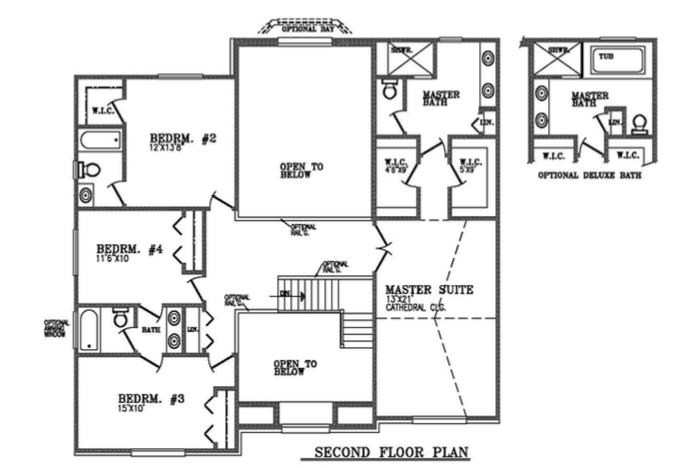 The second story floor plan provides ample, thoughtfully laid out spaces in which to retreat and relax. All four bedrooms and three full bathrooms are located on the second floor. The central staircase separates the three bedrooms from the master suite, with bridges opening to the grand foyer and family room below.
The magnificent and spacious master suite boasts a stunning cathedral ceiling, enhancing the already grand feel of the room. The master suite also enjoys a generously-sized master bathroom and separate his and hers walk-in closets.
In addition to the master suite, the second story contains another en suite bedroom, perfect for in-laws or older children. The remaining two bedrooms share a Jack and Jill bathroom, with doors entering from each bedroom. For families looking for even more space, one of the many beauties of the Wellington floor plan is the option to add a loft above the family room providing an additional 280 square feet, bringing it up to 3,310 square feet.
Customizable Options
In addition to all of the wonderful features that come standard in the Wellington floor plan, this flexible plan also allows the home buyer to customize the following features as well:
Kitchen and/or study can be extended 2 feet

Addition of a bay window in any number of desirable spots around the first floor of the home

Addition of a custom fireplace in the family room

Conversion of first floor study to en suite bedroom

Addition of loft above family room adding approximately 280 sf, for a total of 3,310 sf

Numerous stunning elevations to choose from
We would love to discuss with you how to make the Wellington floor plan or another one of our beautiful plans work for you and your family! Please contact us to schedule a consultation today.