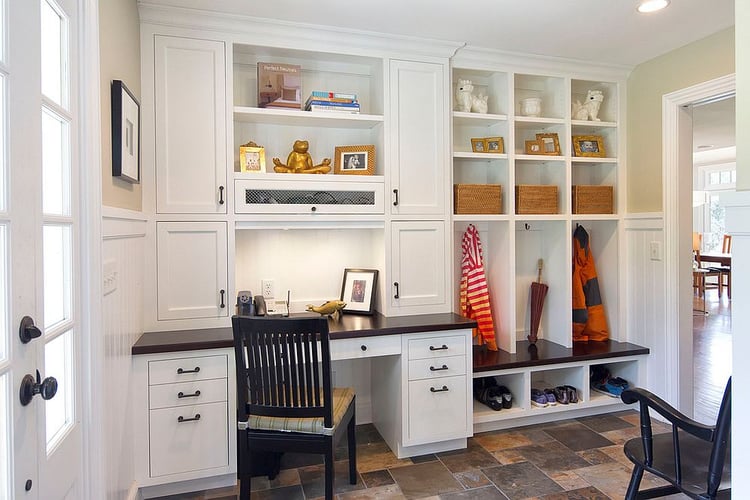 While some may argue that home building doesn't change much from year to year (yep, our houses are still built with wood, hammer and nails!), we at Evergreen Homes would argue otherwise! Thanks to a raft of popular TV shows about homes, picture-gathering websites such as Instagram, Pinterest and Houzz, and websites dedicated to house plans, new home buyers have a much better idea of what they want and much higher expectations as well. And we at Evergreen Homes have been listening to our home buyers!
Quartz countertops, pocket offices and no hard-wired phone lines: these are just a few of the trends in new home construction we have been seeing. It's more about changing lifestyles and features that make our customers' lives more comfortable and convenient that are trending now.
Most notable trends this residential builder is seeing with new home buyers:
Open floor plans - An open floor plan can create a sense of space, light, sociability and fluidity that many people love. It's perfect for families who like to entertain or who have small children and just feels more modern.
Flex spaces are an emerging trend and a great way to make your new home fit your lifestyle. Think home office, craft / hobby room, home theater, gym, guest room, formal dining room. The options are limitless!
In-law suites are becoming more popular as more families are having multiple generations living under one roof.
Sunrooms and other living spaces that bring in a lot of natural light, including screened-in porches.
Outdoor living spaces, including gourmet outdoor kitchens, continue to be popular.
Mudrooms are quickly becoming a "must-have" in new construction homes. A mudroom is essentially a room in your home that acts as a portal between the outdoors and indoors, keeping your family organized and containing clutter and mess coming in from the outdoors.
Pocket offices, or small dedicated nooks in the house, are gaining traction in an era of laptops, tablets and wireless access points.
Dedicated charging stations for smart phones, tablets and other wireless electronics.
Landline telephone service to homes is not an automatic anymore. Some new home buyers are relying solely on cable connections for phone service, or cellular services.
Quartz countertops - Quartz countertops are entirely non-porous, require no sealing, are less prone to chipping and cracking, and are available in a vast array of stunning colors. Every piece of quartz is different, making it a one-of-a-kind item for your kitchen. On top of its natural beauty, it's also a smart choice for a clean kitchen, as it repels bacteria.
Free-standing soaking tubs (with or without feet), large, luxurious showers and nice plumbing fixtures.
White on white - Cabinets, flooring, backsplashes, counters, fixtures and appliances are beginning to lighten up to give way to a fresher, airier feeling.
Bold exterior colors - To heighten curb appeal, bold colors are being used on doors, windows, shutters and other trim. Modern flair is also being added to traditional designs through color, finish, fixture and lighting selections.

Stone exteriors are becoming a more popular choice than brick among home buyers.
Let us know what you'd like to see in your new home by clicking on Submit Comment below, and it may just make it onto our list of latest trends!