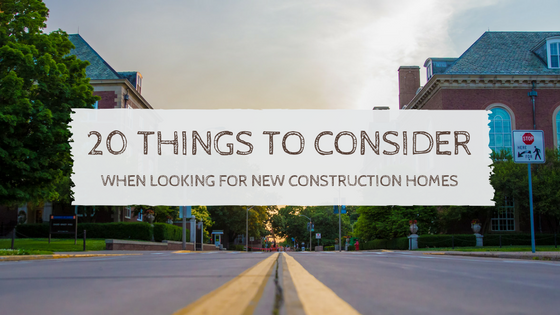 Are you looking to buy a new construction home in Canton, Michigan? Here are twenty things to consider that will guide you through the home-buying process from beginning to end.
Location, Location, Location: The first thing to always consider when looking for a new construction home is location. It's important to do your research about the community you will be living in. When considering Canton, Michigan, be sure to check out Evergreen Homes' resource page for everything you could possibly want to know About Canton, Michigan and more!
Neighborhood: Once you know Canton is a desirable city to live in, you'll want to consider a specific neighborhood where you would like to live. Visit the neighborhood on multiple occasions and at different times of the day. Make sure you get a good feel from the home styles, neighbors, location, etc.
Taxes: The next item to consider on your checklist is an economic factor: determine what the city taxes are so there will not be any surprises.
Commute Time: Consider what the commute time to work will be like and whether it is acceptable? Also consider traffic patterns during busy commute times.
Schools: If you have school-age children, it is very important to check out all nearby educational opportunities including the public school district and specific schools servicing your neighborhood, private schools and higher level education such as colleges and universities. An excellent starting point for your research on this topic should be Evergreen Homes' resource page about Schools in Canton, Michigan.
Proximity: Beyond these specific needs, make sure you're in close proximity to other things that are important to you and your lifestyle: family and friends, shopping, entertainment, restaurants, and personal activities like gyms and outdoor areas.
Future Development: Remember that neighborhoods change. Make sure to check with your builder and the city on future neighborhood development plans.
Builder Licensing: It may surprise you to discover that some Michigan builders are operating without licenses. Be sure that yours is licensed.
Builder Affiliations: A builder's affiliations say a lot about the quality of its work in relation to other professionals. Look for affiliations with well-known, reputable, professional organizations.
Builder Experience: The longer a builder has been in business, the more likely it is that its products are trusted and durable.
Testimonials: The next best way to check a builder's credibility is to hear what its previous home buyers have to say. You should be able to review a builder's testimonials in a number of places, such as Houzz, Facebook, and of course, the builder's website. If you are unable to find any reviews on a builder, that too should be telling you something!
Financing: Make sure you compare several payment plans offered by your Michigan builder's recommended lenders.
Contracts: As you and your builder develop plans for your new home, every decision and cost should be memorialized in writing and signed by both parties. These writings will be done on the builder's forms and will typically take the shape of a Purchase and Sale Agreement and amendments and/or change orders thereto.
Know What Is Included and What Is Not: As you formalize your contract, it is very important to understand what are standard features and selections that are included with your new home and what are custom features and/or upgrades that will cost you more.
Selecting a Floor Plan: Sometimes it can be hard to visualize a floor plan when looking at a two dimensional blueprint, so ask your builder if you can see the floor plan in a model or existing home, or see another house with a similar floorplan to the one you are considering.
Square Footage and/or Upgrades: If you have to choose between allocating your budget toward square footage or upgrades, consider choosing square footage. You can always add extra upgrades and custom features later, but adding square footage or changing your basic layout down the road is much more difficult and costly.
Home Inspections: Make sure that your builder has regularly-scheduled home inspections throughout the construction process to verify structural and code-related integrity and compliance.
Energy Efficiency: Building a new home is the perfect time to make sure your features and appliances are energy efficient. Don't miss this chance to save on monthly utility bills. While energy saving features like new windows, insulation and appliances may cost you more at the front end, they will save you more in the not-so distant future.
Home Warranties: Understand how long your new home warranty lasts and what your new home warranty covers and doesn't cover.
The Final Walk-Through: Finally, don't close on your new home until you've done a final walk-through with your builder and inspector, and are fully satisfied with the end product.