Kitchens are often at the top of new homebuyers wish lists. As they should be! Not only do kitchens add the most value to your new home, but they are also commonly the hub of family life. So it is definitely one of the (if not the!) most important rooms to focus on when building your new home. Here are some important things to consider when planning your new kitchen.
Consider Kitchen Layout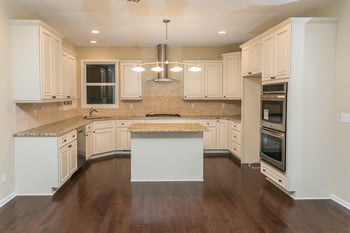 Before you get fancy, you need to get practical. And first up on the practical list? Layout. Whether you elect to go with a one-wall, peninsula, galley, horseshoe, or L-shaped kitchen, consider how to triangulate your major appliances so that you have an easy work flow among your sink, refrigerator, and stove.
Next, if your kitchen layout will support it, consider installing an island. Islands provide a number of benefits to a kitchen's functionality. First, they help maximize storage options by providing additional space to install cabinetry. Next, they also provide extra work space, which is always a plus in a heavily-used kitchen. Last, and our favorite, if you have space for an overhang on your kitchen island, it's a great area to add bar stools and create a casual, easy space for sitting, eating, doing homework, etc.!
Introduce Aesthetic Elements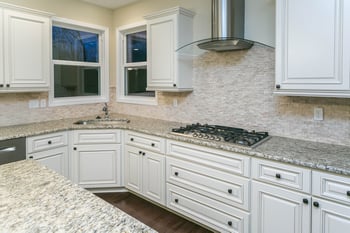 One proven way to design a classy and modern kitchen is to introduce various textures. Adding texture is a great way to add aesthetic elements to your new kitchen. Check out this Evergreen Homes kitchen as a prime example. High grain flooring is complemented by well-trimmed cabinetry, marbled granite countertops, glass tile backsplash, stainless-steel appliances, and smooth upper walls. While the color pallet remains relatively clean and neutral, interest is generated through an abundance of variation in texture. You may even consider glass or open-shelving in select areas since these are increasingly popular and attractive kitchen design ideas.
Another great way to introduce an aesthetic element into your brand new custom kitchen, is to have fun with the kitchen island. This is a great place to vary color and texture as well. Consider a different, but complementary, color cabinet in your kitchen island. For example, white kitchens have become very popular lately. Consider choosing a gray or dark wood cabinet for the kitchen island instead of white. Also consider a different countertop for the island than the countertop used in the rest of the kitchen. Bar stools at the island are also a fun way to add additional texture and color!
Make it Multi-Use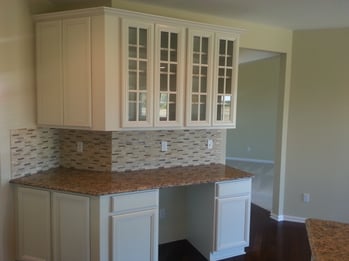 Your kitchen is already a high-use area, so consider making it even more conducive to multi-tasking. Adding extra seating by introducing bar stools on one side of your island provides a convenient breakfast and lunch bar, as well as a centrally-located homework spot for children or visiting area for guests.
If you find yourself working in the kitchen often, you may want to consider installing a work desk area. Plenty of outlets and drawer space provide an ideal space for taking care of business at home or simply having an area to organize household schedules and access your laptop or related devices.
Ensure Good Lighting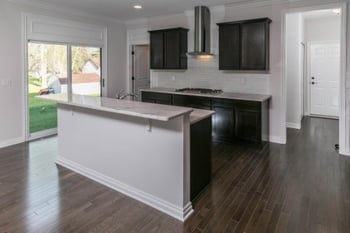 Finally, because your kitchen is such a high-use area, it's important to have proper lighting. Alongside ceiling can lights, consider installing pendant lighting or under-the-cabinet lighting where applicable. Installing French doors also increases natural lighting and extends your line of vision to increase an open feel.
So in considering how best to design your Canton, Michigan home kitchen, work large to small. Think through layout options first and then consider how to introduce aesthetic and utility-oriented design elements. For more beautiful kitchen design ideas for your custom home in Michigan, visit Evergreen Homes's kitchen photo gallery.