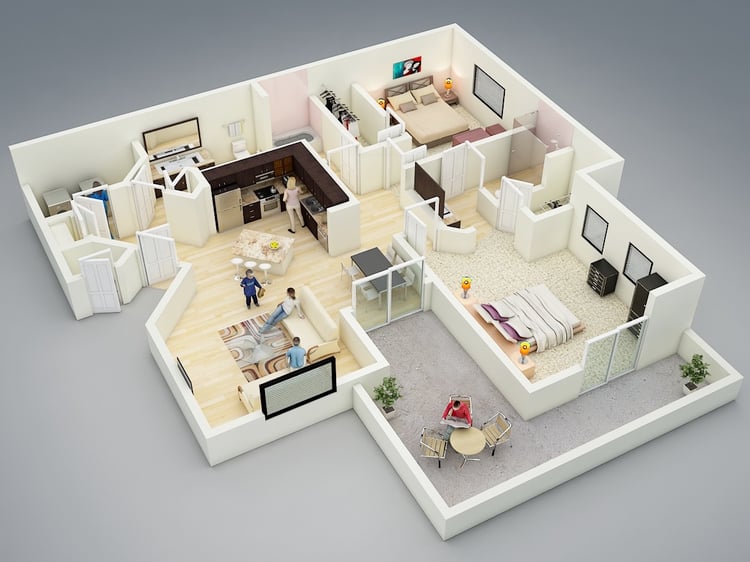 When you're buying a new home in Canton, Michigan, it's important to think ahead. What we mean by that is think about the future, not just today. Of course you can't always plan a home purchase perfectly for every phase of your life, but you can think about what the next five to ten years will likely hold for you and your family so that you won't have to worry about looking for a new home or making major renovations to your existing home to suit your family's changing needs any time soon.
Material Selection
If you're planning on being in your home for at least two or more years, which most people are, you will want to be sure to select quality materials that will last. Don't go for the cheapest flooring, countertop, or appliance options, even if they look modern and stylish. If you do, you'll likely find yourself having to replace them sooner than you'd planned and spending more money in the long run. Instead, choose materials that will stand the test of time, proving durable well into the future.
Floor Plan
The biggest consideration for forward thinking when buying a new home in Michigan is the floor plan. This is because the blueprint of the house is the hardest and most expensive component to alter after construction. For instance, you can always convert an office into an extra bedroom or add internal fixture upgrades with relatively little hassle, but adding an entirely new room will be much more difficult.
Young Families
If you're planning to start or grow a family, you'll want to think about purchasing a house with enough bedrooms to accommodate your family's intended size. Once you have a bedroom number in mind, consider where you'd like the master bedroom situated. Families with younger children who require more attention and involvement will probably want a second floor master near the children's bedrooms, while families with older or no children may prefer a first floor master with greater privacy and an easier place to retreat.
Next, think through how your family lives. If you want to keep an eye on your children as they play or do homework, or you like to entertain often, then choose a more open floor plan. If you want to be able to control noise, have more privacy or close doors on messes when company arrives, then a more compartmentalized plan might be more for you.
Finally, consider selecting more durable materials in high-use areas. For instance, you may want to place tile in your entryways to protect flooring from wet and muddy shoes and to allow for easier cleanup.
Mid-Life Families
For families with teenage children, you'll have to think through transitioning from a full house to a quieter one. During the first years in your house, you'll want enough bedrooms to afford privacy for everyone blossoming into adulthood, but you'll also need to pick a home that will allow you to use those extra bedrooms once children have graduated and moved out.
Consider how you'll use the extra space: can you change a bedroom into an office or a hobby area? Or maybe you'll want to entertain more often, invite aging parents to live with you, or use the extra space for rental income. In any of these situations, you'll probably want your house to have access to individual bathrooms and entrances so that everyone has enough privacy.
Retirement
Finally, if this home is your last home, you'll want it to suit your retirement needs. Consider a first floor master bedroom, a single-story house or a house with ease of access from one spot to another. For instance, look at plans where the master bedroom is on the main floor and is close to a bathroom, a kitchen, and central living spaces.
Since you won't have to worry as much about durability and mess, you can select elegant materials for your new home in Michigan like hardwood flooring for the entryway.