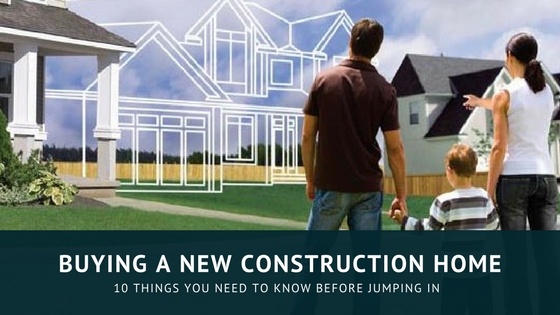 Buying a new construction home provides some exciting opportunities that often are not available when purchasing an existing home (like the ability to choose your exact cabinets, countertops, flooring and even floor plan). On the flip side, buying a new construction home also presents some different considerations that often are not present when purchasing an existing home. So what do you need to know before buying a new construction home?
Here are 10 things to do before buying a new construction home:
1. Find the Right Builder. The home builder you select will make or break your new construction home buying experience. The right builder will not only build you a quality home, but will safely shepherd you through the confusing new construction process and handle any speed bumps along the way. So who is the "right builder"? The right builder is one with significant experience, all requisite licenses, and a reputation beyond reproach. Online research is a great way to learn about such things. Check a builder's reviews on social media and other websites, testimonials from previous customers, and the builder's own website.
2. Research the Community. Three of the most important factors when buying a new home are "location, location, location"! Before buying a new home, it is important to learn as much as you can about the neighborhood in which it is located and the surrounding community. Visit a new neighborhood multiple times and at different times of the day. Knock on doors and speak to other homeowners in the community. In our experience, they are happy to talk and this can give you invaluable insight into any new community. Consider commute times, proximity to schools, and other things that are important to you and your lifestyle: family and friends, shopping, entertainment, restaurants, and personal activities like gyms and outdoor areas.
3. Prioritize Size and Location over Upgrades. Before you focus on the fancy upgrades, prioritize the less sexy, but more important features of your home like location, square footage and floor plan. Even the most beautiful home in a bad location or with an undesirable floor plan will never make you happy. You also will not get as good a return on your investment when it comes time to sell. And if there is room left in the budget for upgrades, keep in mind that kitchens and bathrooms are always the wisest investments.
4. Choose the Right Floor Plan for Your Family and Lifestyle. One of the greatest luxuries of building new is the ability to design your new home to fit your family and lifestyle, rather than making your life fit into an existing home. Choose a floor plan that fits your family's current lifestyle, while also looking ahead a few years at where your family will be then. If it is an option, it is a great idea to visit a home with the floor plan you want, even if it's still under construction or in a different community. That way you can see and feel room sizes and layout in person, rather than guessing by looking at a two-dimensional drawing.
5. Try to Fit In. It is generally a good rule of thumb to keep up with the Joneses, but not get too far ahead of or behind them. In terms of cost, you never want your home to be far more or far less expensive than the other homes in the neighborhood. And in terms of home attributes, choose an elevation, overall square footage and upgrades comparable to those of your neighbors in the community. For example, you don't want to be the only house on the block with linoleum if everyone else has hardwood. If you are, you will not see a good return on your investment when it comes time to sell your home.
6. Put It in Writing. Once you have selected a builder and decided upon what you want to build, make sure everything you have agreed to is clearly set forth in writing. Every decision, cost and modification thereto should be memorialized in writing and signed by you and the builder. These writings will be done on the builder's forms and will typically take the shape of a Purchase and Sale Agreement and amendments and/or change orders thereto. This procedural precaution protects all parties and ensures you get exactly what you bargained for in the end.
7. Make It Energy Efficient. Building a new home presents you with the unique opportunity to make it energy efficient. By using energy efficient techniques, materials and appliances, it will benefit not only you (by saving you money), but the environment as well!
8. Ask about Warranties. Although the hope is that you will never need to rely upon your new home warranty, it is still important to know what your warranty covers and what the process is for making a claim under it. Most builders offer warranties on materials and workmanship. An experienced, quality home builder should be willing to stand behind its product.
9. Get a Home Inspection. You may think you don't need to have a newly-built home inspected, but getting an independent inspection before closing is not a bad idea. You should be present during the inspection to hear what the inspector has to say, as well as to learn more about your new home.
10. Find the Right Lender. There are differences between financing the purchase of a new construction home and an existing home, so you will want to find a good mortgage lender. A good lender can help you find the right type of loan, with the best rates, terms and costs to meet your individual needs. A good lender can also help you figure out how much of a loan you can carry and down payment you can afford to make. You may want to get quotes from several lenders, and then decide which is the best option for you. If you don't know a reputable lender, new home builders can often recommend one or more preferred lenders.
If you are considering building a new home in the Canton, MI area, we would love the opportunity to meet with you!