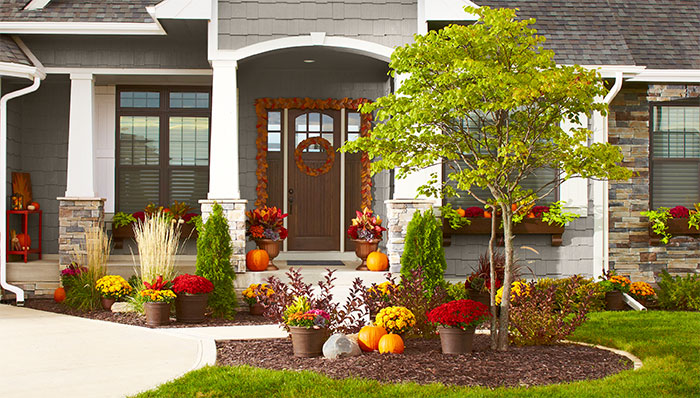 First impressions are everything – especially when it comes to your home. Your home's exterior is the very first thing anyone will see, and the only thing most people will ever see. And when it comes time to sell your home, curb appeal matters even more. According to the National Association of Realtors, 51 percent of homebuyers found the home they purchased on the internet. Without great curb appeal, your home won't show nearly as well!
So how do you maximize your Canton, Michigan new home's curb appeal? Take a look at our top 10 curb appeal tips:
1. Front Door and Hardware. Your home's front entry is the focal point of its curb appeal. Gorgeous hardware (door knobs and door knocker) can make even the plainest door look very classy. Next try a beautiful front door color (plus a glossy paint job) and you're good to go! Go with a tried-and-true classic like black or charcoal, or pick a bold hue like bright red or blue. You can never go wrong with a custom wood door either!
2. Landscaping. Curb appeal starts with quality landscaping that enhances the style of your home. Landscaping doesn't have to be expensive; only well-thought-out, interesting, and cohesive. Pick a theme for plantings (native, tropical) and stick with it. Consider adding a splash of color as well!
3. Add Shutters or Accent Trim. Shutters and trim add a welcoming layer of beauty and curb appeal to your home's exterior. New composite materials, such as PVC resins or polyurethane, make trim details durable, low maintenance and affordable.
4. Vary Exterior Materials. Using more than one home exterior material – such as brick, siding, shingles, etc. – can create greater interest and curb appeal. Make sure the different materials match or complement each other well. Stone (natural or manufactured) is a great option for an exterior accent or detail, adding an upscale, sophisticated look to any home.
5. Build A Walkway. Well-designed walkways make your home feel warm and inviting. Consider a contoured path made of stone or brick, rather than a straight concrete path. Stone or brick pavers add traditional, classic beauty to the landscape of any home.
6. Install Outdoor Lighting. Landscape lighting makes a huge impact on your home's curb appeal, with the added benefits of also providing safety and security. Add lighting along pathways and porch entrances for a touch of elegance. If you are unable to install lights that require hard wiring, solar fixtures are a great alternative.
7. Garage Doors. Choose garage doors in a complementary or matching color to your home's exterior so that they blend in. If you prefer stained wood doors, carriage doors made of composite materials are a beautiful and classy, yet affordable and durable, choice today.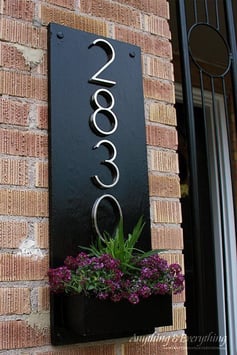 8. Big, Bold House Numbers. Consider the style of your house – traditional, transitional or modern – and create a harmonious or contrasting effect with new house numbers. These days, your local home improvement center or hardware store has an impressive selection of decorative numbers. Architectural address plaques, which you affix to the house or plant in the yard, also make a bold, beautiful statement.
9. Mailbox. It's all about the details – a new, upscale mailbox can really make your house stand out.
10. Create Perfect Symmetry. Symmetrical compositions create welcoming entryways and boost curb appeal. Try composing light fixtures, windows, hardware and plantings around your front door in a symmetrical fashion.
If you are considering building a new home in the Canton, Michigan area, we would love the opportunity to meet with you!