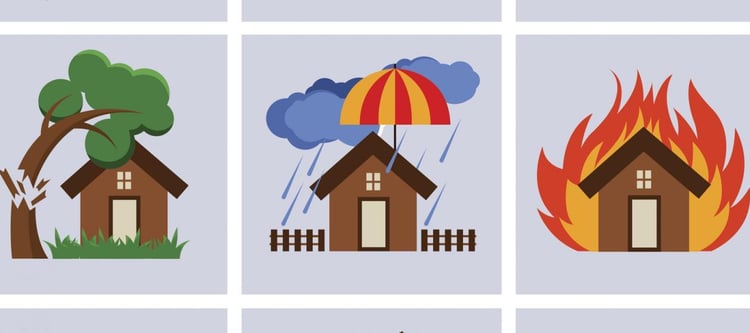 Your home is probably your largest and most valuable investment, so it makes sense to protect it. As with all insurance, you hope to never need it, but for a relatively small amount compared to the price of your home, you are buying peace of mind in case something does happen.
We will try to touch upon new home buyers' most common questions about homeowners insurance:
1. Do I need homeowners insurance?
Unlike auto insurance, which is required before driving a new car off the dealer's lot, homeowner's insurance is not required before taking possession of a new home. Having said that, if you are taking out a loan to buy your home, your mortgage company will require at closing that you have homeowners insurance to protect its investment. And even if you don't technically need it (for example, you are paying cash at closing or your house is paid off), it is still a very good idea to have it.
2. What does it cover?
A basic homeowner's policy typically provides coverage for the structure, its contents (personal property like furniture and clothes), liability, other structures (such as a detached garage or shed), and additional living expenses. Let's break these down.
Structure: If your home is damaged or destroyed and needs to be repaired or rebuilt, your insurance can help pay for these expenses. Structure coverage is not the same as the amount you paid for your home. You need to set your structure coverage for the amount it would take to rebuild your home from the ground up.
Other structures: If your home has a detached garage or shed that is damaged or destroyed, your insurance can help pay to repair or rebuild it.
Contents: This part of the policy covers your belongings if they get damaged or destroyed. It's typically set at a percent of your home's structural coverage. Be aware that there will likely be a cap on the repair/replacement value of items. So if you have high-value items, such as expensive jewelry or rare art, you should consider purchasing additional coverage for these specific items.
Liability: If someone is injured on your property, the liability portion of your insurance policy can help pay for medical expenses, as well as legal fees in the event the injured party sues you. Liability is typically set at $100,000 worth of protection. However, you may want to purchase additional coverage, especially if you have a pool or trampoline, or live on a lake.
Loss of use: If your home is destroyed or you can no longer live in it while it is being repaired or rebuilt, this portion of the policy can help pay for living expenses, such as hotel and food bills, for the duration of time that you are displaced.
3. What are covered perils?
Standard home insurance policies typically cover damage caused by fire, windstorms, hail, lightning, theft, vandalism, explosions, and riots. Typically, water damage, such as that from freezing and bursting pipes, is also covered. However, damage resulting from floods or earthquakes is not covered. Those types of natural disasters require separate policies and should be purchased if you live in a high-risk area.
4. How much does it cost?
When determining how much your insurance policy will cost, providers take into account numerous factors including, without limitation:
Your credit score.
Insurance claims history.
The location and age of your home.
The costs associated with rebuilding your home.
Whether you own pets or not. Owning a dog, especially certain breeds, means you'll need more liability coverage.

The coverages you select.
5. How can I save money on homeowners insurance?
There are a few ways to save money on home insurance premiums, but some may take time.
Discounts. Most insurance providers offer discounts for bundling multiple policies, such as home and auto, with the same provider. Often times providers will also offer discounts for safety features, such as home security systems.
Raise your deductible. Raising your deductible (the amount you agree to pay toward a claim before insurance kicks in) will result in lower monthly premiums. However, don't set your deductible so high that it would cause you financial hardship if disaster strikes.
Improve your credit score.

Most insurance providers use credit score as an indicator of how likely you are to file a claim. Studies have shown that those with low credit scores were more likely to file claims than those with high credit scores. Improving your credit score can ultimately decrease your premium payments, as you'll become less of a risk to insure.
6. How do I choose a provider?
Shop around. Insurance providers offer different coverage at different prices. The best way to find the right provider for you is to get quotes from several different insurers and compare them. The easiest way to do this is to use an insurance broker. Brokers have no contractual requirements with insurance carriers to sell only their products, so they can shop around for you to find the most competitive option.
If you are looking for an insurance broker, we highly recommend our preferred partner, Phil Klein of the Phil Klein Insurance Group. PKIG partners with over 90 of the nation's top insurance carriers to better serve its customers. PKIG can be reached at (248) 682-7445 or http://www.philkleininsurance.com.
If you are considering building a new home in the Canton, Michigan area, we would love the opportunity to meet with you!