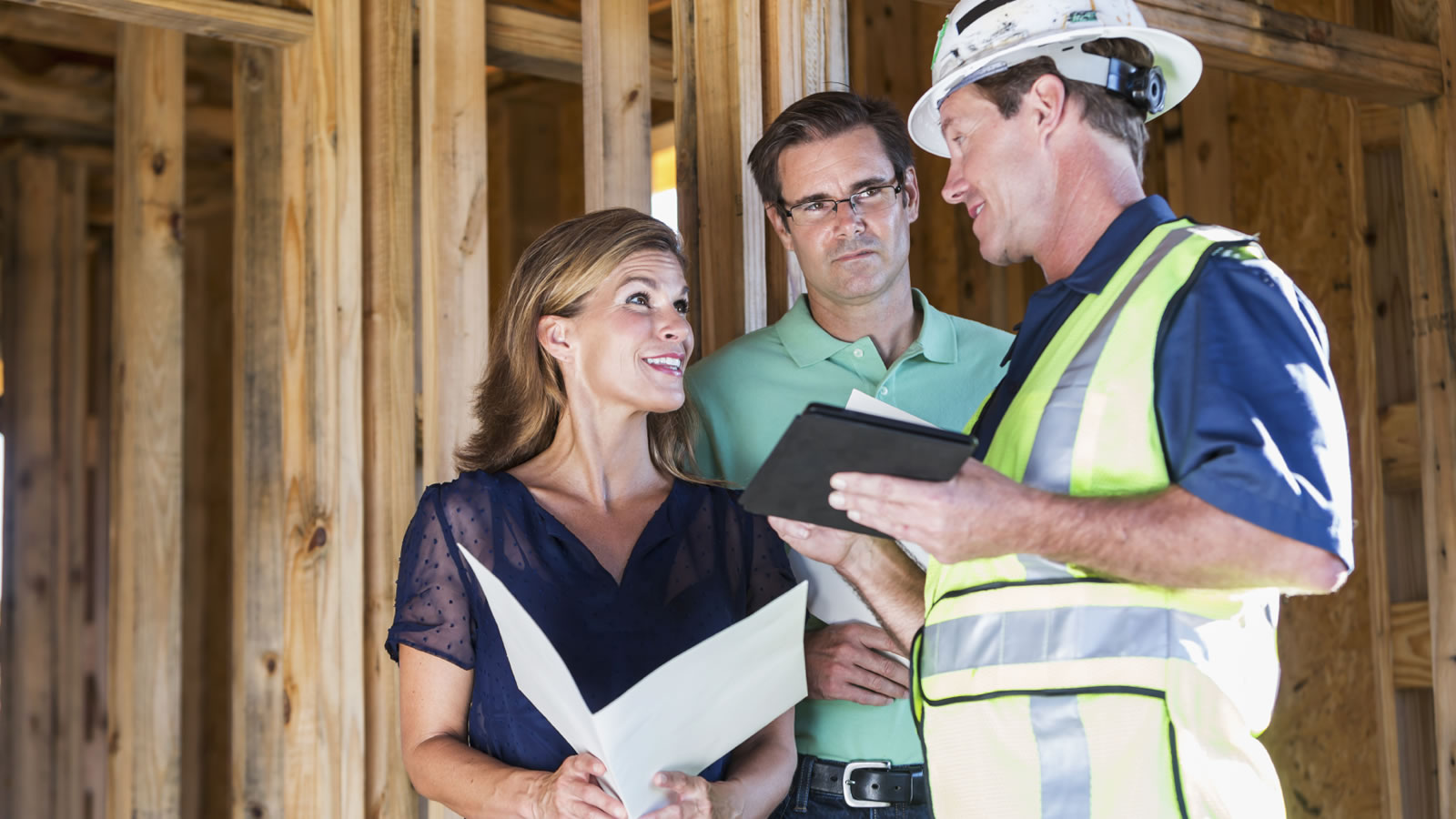 Buying a new construction home is very different from buying an existing home. When buying a new construction home, it is not always "what you see is what you get." It is important to clarify what's included in the price of the home and what's not. Often times features and materials used in model homes are upgrades or options not included in the base price of the home.
The purchase agreement will contain answers to many of your questions, but you'll want to know certain essential things before you ever get to the contract stage. Your initial meetings with the builder are the perfect chance to get these answers. Write your questions down so you don't forget what to ask, and don't be shy about getting the answers you need. This is a major purchase, and you don't want any surprises later.
Not sure what to ask? Here are 10 questions to ask any prospective home builder before buying a new construction home:
Which are standard features and finishes?
When you tour a development's model home, keep in mind that you are often viewing a version of the builder's standard home that is decked out with "all the bells and whistles". You will want to ask which features and finishes are standard (therefore included in the base price of the home), which are upgrades, and what each upgrade costs. You won't go through the actual selection process until after the contract is signed, so you'll need to ask this question up front. This is very important to find out as it will directly impact your budget. Selections such as flooring, countertops, appliances, trim, and exterior materials (brick, stone) often come in a wide range of options with many being upgrades.
Is the lot cost included?
When you're exploring new construction homes, you'll see that each plan comes with a base price. The base price typically includes the cost of the structure itself, as well as standard interior and exterior features. What may not be included is the cost of the land, so be sure to ask if the lot cost is figured into the base price of the home. If it is not included, ask what the cost of the land is. If it is, ask if there are premiums associated with certain lots. It's possible that the base cost does include the lot, but that certain lots are subject to a premium based on features of the lot (for example, a pond or lake view, wooded back yard, wider lot, or cul-de-sac).
How long will the building process take?
It's important to know what you're getting into timing-wise with a new construction build, particularly if you have a house to sell first or you're going to be renting. While the building process is prone to delays and you won't be able to get an exact completion date, you should be able to get a general idea of how long to expect.
Are you allowed to purchase your own materials or appliances?
If you are interested in supplying your own materials or appliances which are otherwise included with the purchase of the new home, be sure to ask what the builder's policy is on that. Each builder's policy is different. Some builders flat out reject it. Others may allow you to purchase and install some of your own materials or purchase your own materials and then have the builder install them. Alternately, some builders won't let you purchase or install your own materials, but may let you purchase your own appliances, even on items that the builder includes with the new home.
If you can supply your own materials or appliances, will you get credits?
If you are allowed to supply your own materials or appliances, it is important to understand the builder's pricing policy as it relates to credits (or allowances). Let's take an example. You would like to purchase a special vessel sink for that formal powder room downstairs, but the price of your new construction home already includes the cost of a sink worth $200. If you supply your own sink will you get a $200 credit because the builder is no longer required to supply the sink? Some builders offer credits for customer-supplied materials or appliances, while others do not. When allowed, different builders will price allowances differently, so be sure to ask about their pricing policy. Some will give you a straight dollar-for-dollar discount ($200 credit in this example), while others will only give you a certain percentage discount of their original cost.
What warranties are provided with the home?
Just because a home is brand new doesn't mean that problems can't arise. Fortunately, most new construction homes come with one or more warranties to protect you in the event certain issues do arise. Most builders offer at least a 1-year warranty on workmanship. Some offer a longer warranty covering structural defects only. Ask what warranties are included, what they cover, and how long they last. You should also receive manufacturers' warranties on appliances and materials to the extent applicable (e.g., washer and dryer, hot water heater, air conditioner, kitchen appliances, and roof).
Is landscaping included?
Landscaping costs can be significant on a new construction home where you are starting out with nothing, including grass, so it's important to ask whether it is included or not. Some builders include your basic landscaping, while others leave you with unfinished land that becomes your responsibility to sod and landscape (and generally must be completed in a set amount of time per the contract). If it is included, ask what specifically it includes (e.g., sod, trees, plants, etc.) and whether there is any sort of warranty on the materials.
Is there a homeowners' association and what does that mean for you?
Is there a homeowners association (HOA) for the development you are looking at? HOAs are responsible for maintaining and repairing common areas as well as setting standards for the neighborhood and ensuring homeowners comply with those standards. HOAs charge monthly or annual fees for maintenance and repairs. Be sure to ask what those fees are before you buy a home. In addition, consider the HOA regulations before you buy a home to make sure any plans you may have for your new property aren't prohibited. Regulations vary from community to community, but an HOA can set restrictions on many different things from the paint color of your house to the type of mailbox you can post to whether or not you can install fencing or a shed.
Are there any financial incentives?
Always ask whether a builder offers any type of incentive. Some builders may offer incentives if you are referred by an existing home owner or buy a certain amount of upgrades. Other builders may run special pre-construction or seasonal offers. It can't hurt to ask!
In addition, some builders may offer incentives to buyers who use the builder's preferred lender or title company. Such incentives may include the builder paying thousands of dollars in what would otherwise be the buyer's closing costs. You should still shop around and get quotes from other lenders before deciding to go with a builder's preferred lender.
Do you have any references I can see or past customers I can talk to?
Always check references when choosing a new home builder. Hiring the wrong builder can cost you a great deal of money, time and aggravation in the end. It's not just about having the lowest price. Check a builder's website for testimonials and do a search for any online reviews. Ask past customers questions such as, "How responsive was the builder when you had a question or concern?", "How is the builder's quality?" and "Would you use the builder again?" And check out our previous blog "10 Tips for Selecting Your New Home Builder".
If it's your dream to build a new construction home, go into the process with a clear idea of what to expect. The more questions you ask in the beginning, the less surprises you'll face in the end.
If you are considering building a new home in the Canton, Michigan area, we would love the opportunity to meet with you and answer any (and all!) questions you may have!