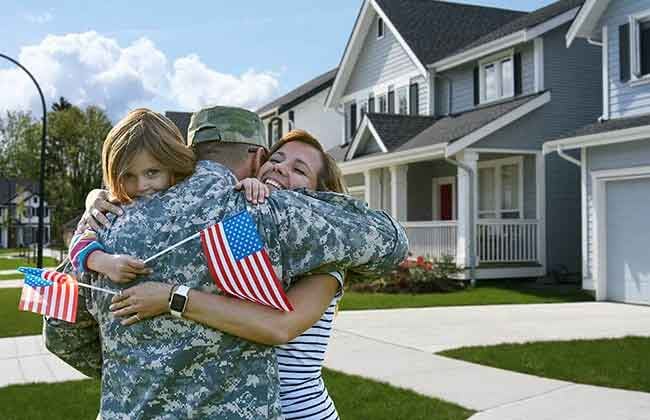 Are you an active service member or veteran looking to build the home of your dreams? If so, the VA construction loan may be just the right financing tool to help you realize that dream. Like traditional VA home loans, VA construction loans are backed by the U.S. Department of Veterans Affairs and offer qualified service members and veterans exclusive and unique benefits to make building a new home more affordable and achievable.
For starters, VA construction loans can help qualified service members and veterans finance 100% of the purchase of the land (or lot) as well as the construction of the new home without the need for a down payment. It is also typical for the construction loan and permanent financing (traditional mortgage) to be handled together at a single closing before construction commences. This is called a "one-time close", which has numerous benefits such as one set of paperwork and closing costs (i.e., no duplicate costs), single loan qualification and locking in the interest rate. Once your home is built, your lender will convert your construction loan into a traditional mortgage.
Here are some of the unique benefits of a VA construction loan:
No down payment.
One-time close - single closing date for both the short-term construction financing and permanent home loan (mortgage). That means one loan qualification, set of paperwork and closing costs.
Easier to qualify - minimum credit score of 620.

Lower payments - competitive interest rates and no private mortgage insurance can mean lower monthly payments.

100% financing - finance the purchase of land, cost of construction, and closing costs.
Interest-only payments during the construction period.
Locked-in interest rate (refinance at the lower rate if the market improves).
First-time homebuyers - No down payment and relaxed credit standards mean loans backed by the VA are especially helpful for first-time homebuyers.
While the many benefits of a VA construction loan are worth it, there are a couple of hurdles to jump first. The process of getting a VA construction loan involves a number of qualifications and steps, as well as a fair amount of paperwork. In addition, it can be challenging to find a lender who offers VA construction loans. Fortunately, we can put you in touch with one of our Preferred Lenders who offers, and has experience with, this type of financing! Contact us today for more information on VA construction loans.
Interested in learning more about construction loans generally? Or, not an active service member or veteran, but still interested in the benefits of a construction loan, like one application, one-time close, lower down payment and locking in your interest rate for up to 12 months? Check out our previous blog "Financing New Construction Homes - Construction Loans Explained" for more helpful information.
If you are considering building a new home in the Canton, Michigan area, we would love the opportunity to meet with you and answer any questions you may have!